Yellow-tailed black cockatoo: 55 to 65 cm. length and weight of up to 900 grams. (Calyptorhynchus funereus) is clearly distinguishable by its mostly black plumage, yellow cheek patch, and yellow tail panels. It has a short, moving crest above its head.
The female has a yellow patch on the cheek more defined and larger than the male, Bello sings r pale gray (Pink in males)
The young have overall dull plumage. The upper immature male black woodpecker darkens for two years, While the lower black woodpecker for 4 years.
Order : Psittaciformes
Family: Cacatuidae
Genus: Calyptorhynchus
Scientific name : Calyptorhynchus funereus
Quote : ( Shaw, 1794)
Protonimo : psittacus funereus
Yellow-tailed black cockatoo subspecies
Calyptorhynchus funereus funereus( Shaw, 1794) – Nominal. Eastern Victoria, New South Wales Yes Queensland, Larger and darker spotted tail.
Calyptorhynchus funereus whiteae ( Mathews, 1912) – Southern Australia (including Eyre Peninsula and Kangaroo Island ) and Western Victoria.
Calyptorhynchus funereus xanthanotus ( Gould, 1838) – In Tasmania only, Smaller size, short dark spotted tail.
Yellow-tailed black cockatoo habitat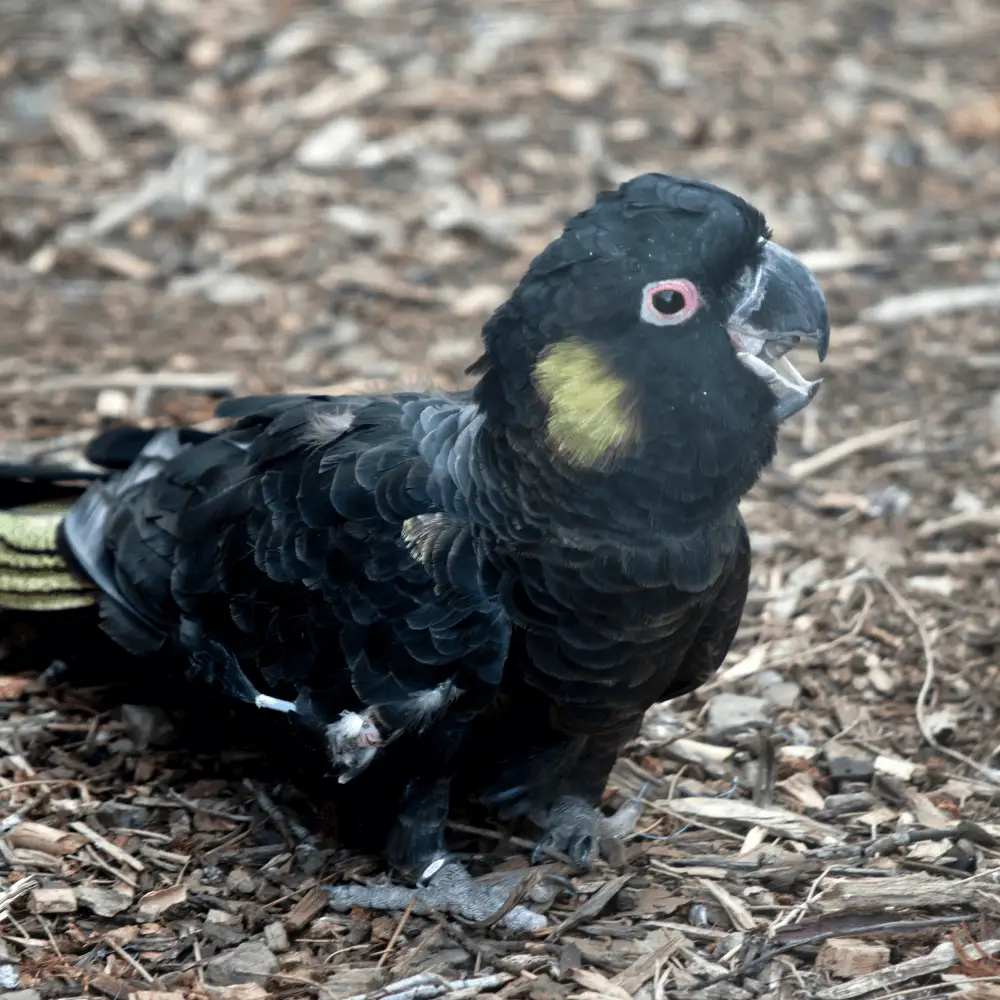 Variety of habitat types, including Eucalyptus forests, heathland, subalpine areas, pine plantations, and occasionally in urban areas.
They are often seen flying in pairs or trios formed by a couple and their young, although outside the breeding season, they may join larger flocks.
It belongs to the 2000-meter range throughout South East Australia, from the South Eyre Peninsula to East Central Queensland.
Your number is declining in parts of its range due to habitat fragmentation and the loss of large trees used for breeding.
Tasmania is common and nomadic. They can be seen in many parts of the state and the larger Bass Strait Islands.
Yellow-tailed black cockatoo breeding
They have a long breeding season, which varies throughout its range, although in Tasmania, in general, it is from October to February. Both sexes build the nest in holes in tall, mature trees, usually Eucalyptus. Fill the hole with wood chips.
One or two eggs form a clutch. The female incubates the eggs while the male provides the food. Both parents help raise the baby, although only one baby survives. The chicks fledge about three months after hatching and remain with their parents until the next breeding season.
Yellow-tailed black cockatoo Food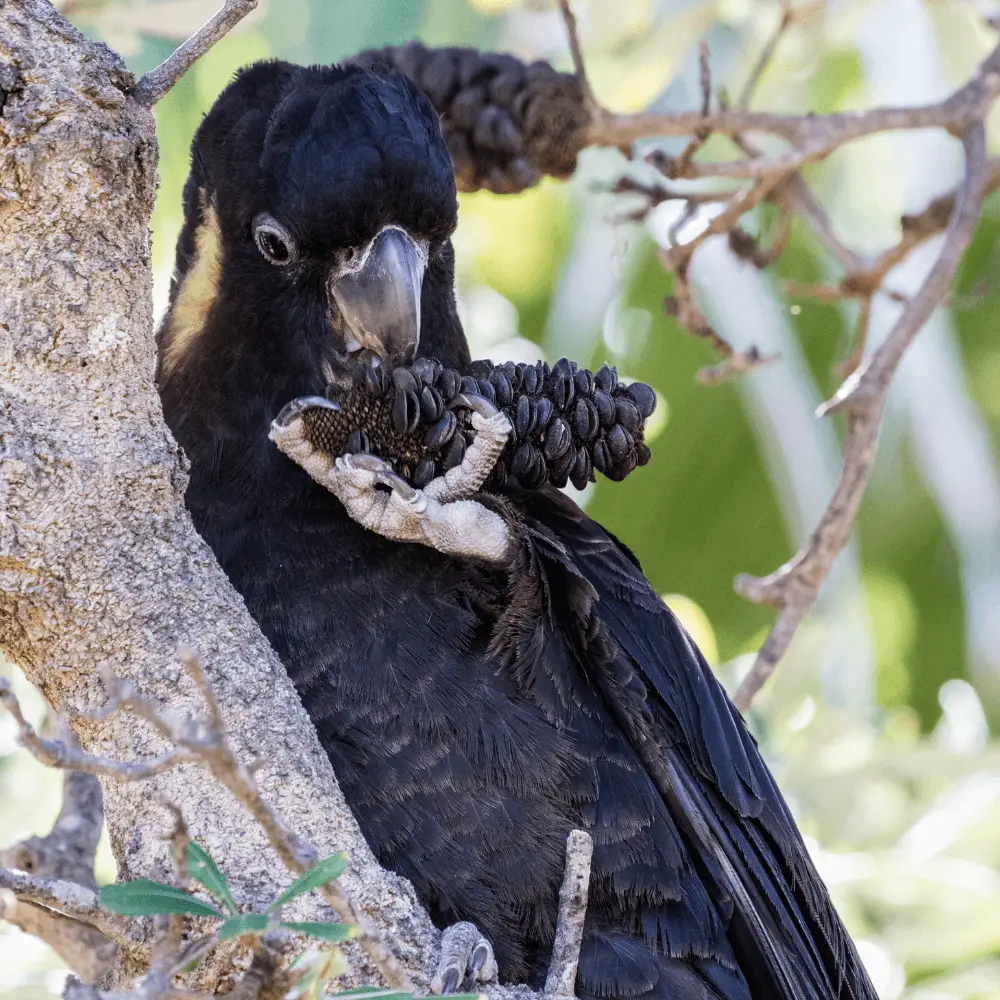 Seeds native trees, land plants, and pine cones. Some insects are also part of their diet. Unlike other cockatoos, a significant proportion of the wood borer diet worms. The bird put its ear against the surface of the dead trees to hear the warm sound.
If a worm is detected, the parrot will use their powerful beak to pull items from the tree until you get to the meal, often leaving a pile of wood chips at the base of the tree. These scars are a common sight in Tasmanian forests, on dead trees.
Are yellow tailed black cockatoo endangered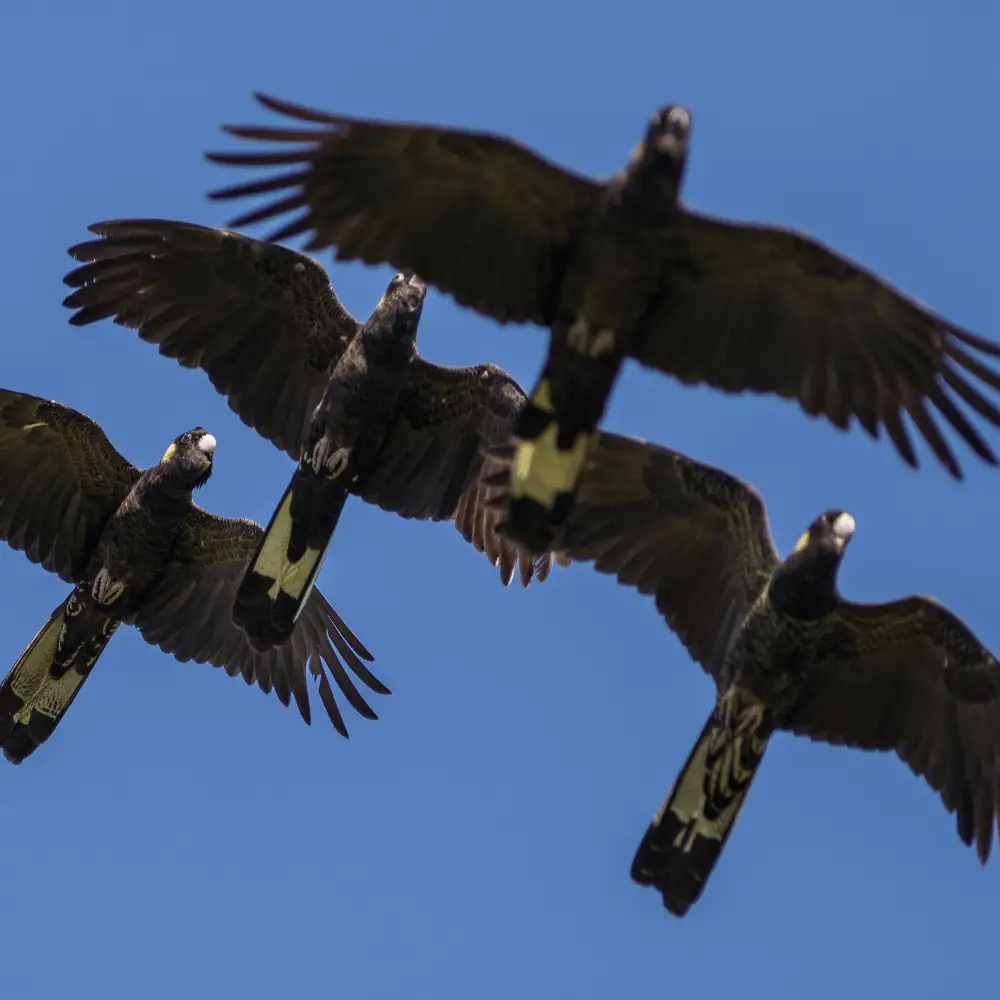 This species has a very large range and therefore does not approach the threshold of vulnerable individuals. Not threatened worldwide. II OF THE CITES. As with most other cockatoos, its long-term existence depends on the continued availability of hollow trees for nesting,
The population is estimated at least 25,000 birds.
The population trend appears to be stable.
SOURCE: Werrong Lane
Yellow tailed black cockatoo pet
In the poultry industry, this species is extremely rare and expensive. Australia has captive breeding.
Like all cockatoos, they have just lived over 40 years.
Related article: